I was running through my repertoire of easy meal options for climbing, hiking, traveling with kid etc.,  and thought I'd share my short list in hopes of getting some feedback (and an expanded selection) for quick and easy food options.  Please read my list and add your favorites in the comments.
Caveat: Refrigeration can be a challenge (adds to the amount we carry) so I try to think of things that won't spoil quickly.  Some of the options on my short list, however, probably require refrigeration.  We use these for short day trips and/or the climbing gym.
1.  Gogurt.  I know, I know. . . you pay for the packaging.  Brand doesn't matter, and there are some organic options out there.  If you freeze it, gogurt is easy to travel with and is a healthy fun snack for the kids.  No knife needed to open.
2. Frozen peas.  My kids love to eat frozen (or still cold) peas.  Not sure of the appeal (I don't usually even cook them at home, to be honest).  Peas are healthy finger food for little hands.
3. Breaded chicken legs.  This is the "should be refrigerated" food item that requires some prep, but I must say it is worth it.  We love to eat cold breaded chicken legs out at the crag.  Wipes are a must with this one (a bit of grease/oil left on your hands doesn't help with climbing).  Again, finger food that doesn't require additional effort while outside or away from microwaves and camp stoves. Carry this one in a baggie (baggie is perfect for the bones when you are done and any other waste you are carrying out).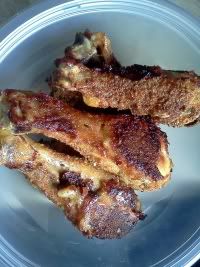 Chicken for the road. Serve cold
4. Applesauce in single serve containers.  You can use your own reuseable containers for this one or just buy the prepackaged ones.  Spoon recommended (if you use the prepackaged applesauce, the foil top serves as a handy spoon in a pinch).
5.  Dried fruit.  Again, you can do this one on your own or just buy it packages (expect some extra sugar with your fruit).  Raisins are a hit in this house as are dried mangoes and pineapples.  Oh, and the kids like them, too.
6.  Bagels.  Filling and finger food.  Cream cheese optional (depending on your time away from a cooler)
7.  Flavored tuna fish.  In the packets. . .low mess, no mixing required.  Crackers/bagels for serving.
8. Apples.  Not cut.  Ryan and I eat the skin off (since the kids are still a bit too young to chew the skin properly) and hand the rest to the kids. . . You can use your handy pocket knife on this one if you have it (optional).  Oranges are a good second option yielding more mess. Grapes work too.
Other options. . . Tried and true: PB&J.  Messy.  Not a hit at our house.  Granola/trail mix.  OK but tend to include chocolate. . .my kids will just pick out the good stuff so I avoid the mix and the candy.  Bananas make a mess if not carried properly.
What are your favorite day hiking/climbing/bike riding/travel foods?  In particular, I'd love to hear options for bringing something with protein to the crag. No refrigeration or on-site cooking required (pre-cooking I'll do).
Thoughts?