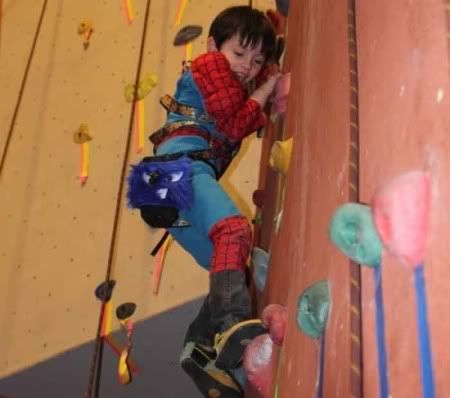 Spiderman and his Monster kid sized chalk bag
My kids love to put their hands in our chalk bags/pots.  They brush their hands off, touch a wall (or rock), their face, each other. . . then dip their hands back into the chalk bags to repeat. We've found that the best way to avoid contamination (good chalk + sticks/dirt = bad chalk) is to provide them with their own chalk bags.
My top two hints for combining climbing chalk & kids:
Chalk balls (like this one at REI) are less messy.  They are also less fun.  I prefer to put a chalk ball in the kids' chalk bag – it cuts down on mess and waste. . .but it is legitimately less fun for the kids (they like mess).  You decide.
Carabiners do not work so well for attaching said chalk bag to the child.  It inevitably leaves them standing there with their pants around their ankles as the weight of the carabiner is too much for their skinny little bums. The waist strap is more practical (for little kids) at keeping the chalk bag (and pants) on their body while climbing.
Seems pretty basic, but give a kid a chalk bag and teach them to fish – or some such metaphor for keeping them out of your stuff