Lauren in her boot
Things I learned from Saturday's Top Rope/Lead Competition at PRG.
1.  Tammy Opalka from Practical Climbing is a rock star.  She ended up placing second in the Advanced Women's division.  Tammy and I formally met for the first time on Saturday.  I reviewed her fun chalk bags a few posts back but we hadn't actually met before.  Tammy and some of the women she climbs with seem to have taken a page right out of ChicksClimbing as they are outdoor female climbers who seem to climb primarily with other women.  They hang out with one another across ability levels, and cheer as loudly for the woman climbing an 80 point comp climb as for the woman sending a 700 point comp climb.
2.  Lauren (from PRG) can climb really well for a woman with one leg in a boot.  She had a fluke belaying incident late last year and ended up with a shattered heel (I think) which required surgery.  She is now is in a boot which she proceeded to climb in.  She didn't actually use her bad foot – she just jumped her good foot up the rock in a half campus/half hopping style.  It seemed to work for climbs up to 300 points.
3.  I am a red point 5.11 climber.  I'm not a 5.11 climber. BIG difference. This was the biggest lesson of the day for me.  I previously didn't realize quite how big of a difference there is between the two.  Indoors or outdoors, when I fall from a route, (or just sit back on the rope for a rest) I always start from my last place on the climb.  I do not lower and start over.  So the reality is that I don't often send 5.11 routes without a fall or without sitting on the rope/at a bolt for a rest.  Ratings shouldn't matter, but I still had an idea in my head of what a hard climb is for me.  For a clean send and no sitting on the rope I'm a 5.10 climber at best.  And I SO need to pay more attention to my style of climb vs. the ratings.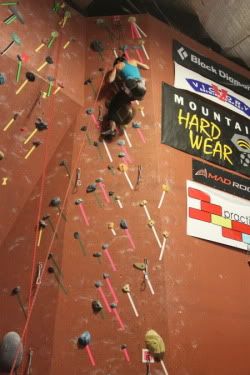 Me climbing the white route (I fell on the next move).4.  I need to rope up more (or I need to stay out of rope climbing competitions.  Read #3 then add that I'm a one route wonder.  I sent one 5.11 ish climb (485 points) and then was within one move of completing three other 450-600 point climbs.  By the top of each of my routes I was barely holding on.  Lesson: I can cleanly climb at a certain level – once.  I need to get on a rope and run some laps because I have absolutely no stamina.  And by "no stamina", I mean I'm a hot mess.
5.  There are some awesome female climbers in the gym – and they are ALL nice, fun, and supportive.  No kidding.  As my self awareness changed with regard to my own climbing, I found that I enjoyed climbing with the other women more.   I could see that their self awareness seemed more accurate. . . many of them knew exactly their flash ability levels (whatever they may have been) and were happy with them.
6.  The teenagers climbing the open competition were strong.  And nice.  Which might be surprising for teenage girls, particularly with regard to speaking to a woman technically old enough to be their mother (seriously warped that I'm that old, by the way).  Zoe Steinberg (here's an article from her at Five Ten) won the Junior girls section but couldn't stay around for the evening and it was great to hear about how her day went.  Seems like the team climbing aspect of the PRG system has done a great job of keeping these kids mentally & emotionally level while encouraging their love for climbing (and their abilities).
All in all I'm glad that I did the comp.  I got to hang out with some female climbers I hadn't previously gotten to know.  I was reminded that one of the best things about climbing is the sense of community across age, gender, and ability.  I learned that my self perceived notions of my climbing abilities were inflated.  And I discovered that I have a lot of work to do if I want to keep getting better.  Or I just need to remember that it isn't about the grade, it's about the love of the climb.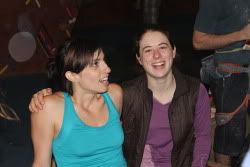 Thanks to my cheering section, Schantal and Jorge! (Schantal & I shown here).
Rest assured, my climbing ego is now properly deflated. Go ahead, feel free to kick me while I'm down – add your comments below.