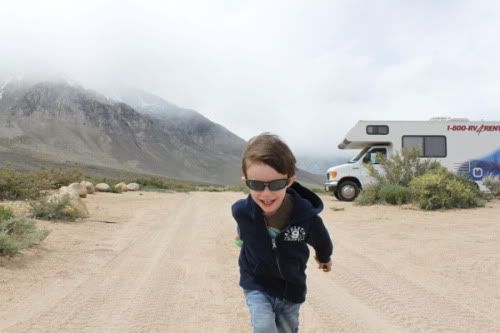 This past spring, my husband and I rented an RV for our two week climbing trip to California.  We aren't usually the "RV type", if there is such a thing.  Or, I should say… prior to kids we weren't the RV type.  Our trip to Bishop and Yosemite this past spring may have given us a window into the RV life.  And it didn't suck.   Yes, it's a bit gas guzzling, and yes, it seems like a lazy way to go.  Say what you will, I consider it a win that we enjoyed a two week climbing trip on the road with two kids under 4 – and that we loved each other and our kids MORE after the trip.
Our children (15 months and 3 years old at the time) were great travelers.  They enjoyed the plane.  Once we had the RV in our possession, they loved the "cool factor" of living in our vehicle.
Pluses to traveling with kids in an RV:
We weren't trying to find restrooms all over the desert.
We could roll out of our vehicle in the morning (in Bishop) and stagger to the rocks.
One of us could nap with the kids while the other bouldered within shouting distant.
We didn't spend tons of money on restaurants,
We didn't have to take two kids under 4 into a restaurant on a daily basis.
One other piece of technology that certainly made things easier. . .  The netbook that we brought with us.  It was loaded with kids movies and allowed us to post on our travel blog, check the weather, and entertain the kids at night and during travel.  While I would normally frown upon using such a crutch, this helped on the plane, on cold days, and in getting them settled down when in a one room RV for weeks.
While RV camping isn't for every climbing trip, it was certainly a great way to travel on this vacation.