Today is my son's fourth birthday.  That means that he is wearing a pair of Spiderman swim trucks, knee high socks, and a skin shirt.  No, we don't live in California, and no, the outfit is not temperature appropriate.  We're in 40 degree PA weather.  Mother of the year I'm not.  But who can turn down those beseeching eyes and the polite request for his new clothes?  A tougher mom than me, I guess.
We celebrated Ry's birthday on Saturday with a "friends" birthday party at the local climbing gym (PRG Valley).  We would typically have waited to splurge on this type of event (it is, after all, only his fourth birthday) but they were running a half off special earlier this year, so we decided to give it a try.  It was quite fun to share our favorite pastime with family and friends – particularly as some of our friends are climbers as well (as are their children).  Here are some of the tips that might help with planning your own climbing gym kid's party: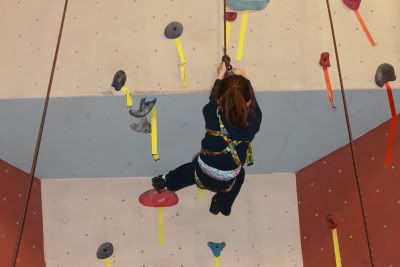 The next Sasha Digiulian? J climbing the roof.
Waivers are apparently an often forgotten necessity at the parties.  This is particularly significant if the parents will not be in attendance.  Kids can not climb without a waiver signed by their parents.  If you are worried about this, collect them in advance of the party.  You can usually pick up the waivers at the gym, or in PRG's case, download and print from their website.
The gym, like most every rock gym that runs kids parties, provides belayers for the party.  They staff the party with belayers in some ratio (usually 4-5 kids per belayer) and so we had two of the PRG belay staff working with the kids.  This is an important question to ask – how many belayers, and/or how many kids per belayer.   Attention spans are quite short and having too few belayers can certainly make the party boring while waiting for a turn.
The ages of the kids attending the party was quite varied including two 9 year olds, a 7 year old, a 6 year old, and four 4 year olds.  The 7+ age range got the most out of it and really enjoyed the experience.  The four year olds were fine, but it was hit or miss (depending on the kid). Four is as young as I would recommend and 7+ seemed like the "sweet spot".  There were also a few toddlers, but they didn't wear harnesses and only "climbed" the wall with a parent spotting and no more than three feet off the ground, if that.
The gym provided body harnesses which seemed to be pretty significant considering the small size of most of the kids in our party.  We also had three additional body harnesses between us and our guest(s).  The body harness question should be asked when booking the party – how many do they have/do they have children's body harnesses?  Even my 9 year old niece (extremely petite) wore a body harness because of her size – it left me feeling much more comfortable than the waist harness that wraps around her tiny waist.
Climbing shoes aren't a necessity for these parties, but people attending should be forewarned that they should wear sneakers or some sort of thin soled athletic shoe.  If climbing shoes are important to you, make sure to ask the gym what the smallest size rental shoe they carry.  I believe PRG carried a size one, maybe smaller.
Try to schedule the party for the earliest time slot. Specifically try to get in before the gym gets busy.  The fewer people in the gym, the easier it is to know that your kids aren't crashing into people, getting under climbers, or making a general nuisance of themselves.  No matter how many people are in the gym, the kids will likely be better off sticking to the kdis climbing area (most gyms have one) as much as possible.  In this case, it's an area where the holds are closer together and/or placed in a more kid-friendly manner.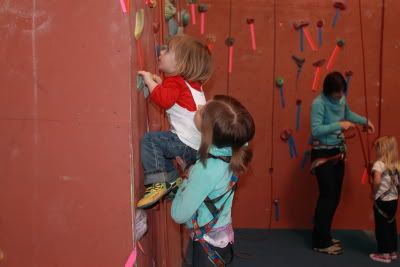 A big kid spotting the little one.
Pluses to a climbing gym party. . .
1. The kids are tired when the party is over.  Climbing is a physical sport, and when done right it is exhausting.
2. The mess of cake/cupcakes/ice cream/pizza/whateverjunkyouareserving is not at your house.
3. It only lasts a few hours and then it is over.
4. It introduces kids to a new sport – and maybe gives the climbing world its next Sasha Digiulian (she went to a climbing birthday party as a child and fell in love with the sport).
The best part of having a kids climbing party. . .
After the party is over, you can get some climbing in yourself!