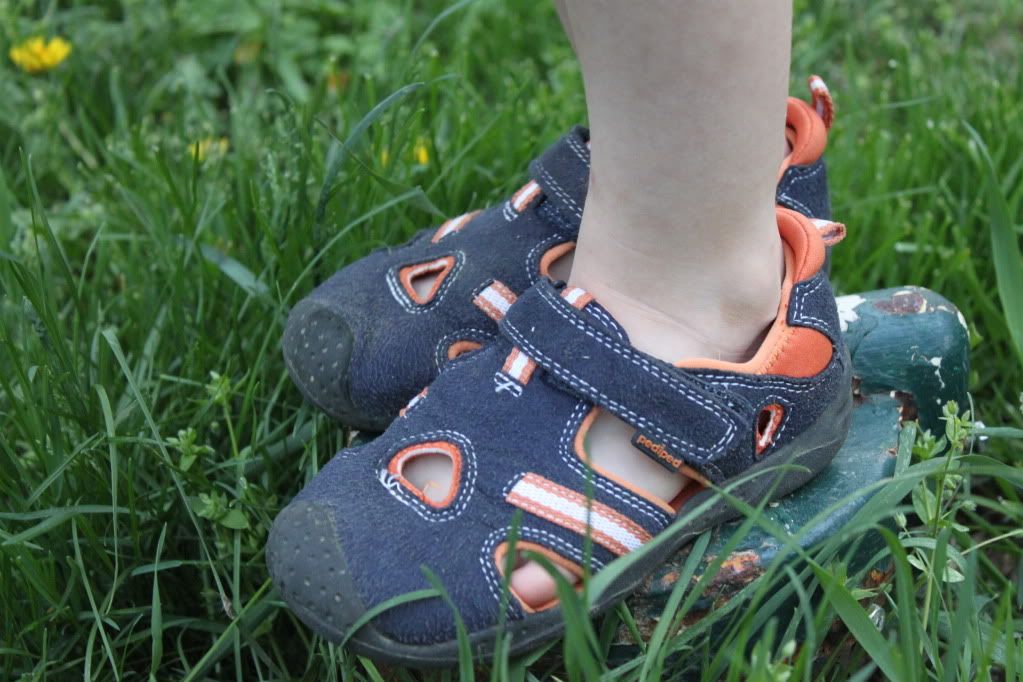 The Pediped Amazon shoes on Ry's feet
Both of my kids have climbing shoes and good sneakers for our climbing expeditions.  There aren't a ton of options for kids climbing shoes but I figure that's a different post.  Given that summer is fast approaching, I went to the local kids shoe store yesterday to find a pair of hiking sandals that would be rugged enough for climbing approaches/trails as well as comfy enough (and cool enough) for daily use.  Here's the summary:
Kids will rarely pick the shoe (or anything else) that you want them to pick.  In this case, neither of them picked the Keen or Northface sandals, my top choices.  Why Keens? They are sturdy, comfy, and. . . ok, I just like them for myself.  I've held off for years, as I can't believe people spend that much on sandals for their kids, but then I can never find them at the local consignments.  I was hoping my kids would pick the Keens which pretty much guaranteed that they wouldn't.
Finding shoes that are both supportive and are great for summer time is a challenge.  You don't want your child walking around in Crocs on the trail (and they are generally not great for riding bikes/scooters/running according to some podiatrists), nor do you want them in flimsy flip flops or sandals.  That being said, sneakers aren't a great option in the heat, nor are they great for use in the water (or when wet).  Socks are usually a necessity with sneakers (to avoid blisters) and in the heat, socks aren't always a "fun to have" for kids.  That limits the selection to a small number of brands/styles.
I came up with the following summer shoe requirements: tread, support, breathability, washability, comfort & toe coverage.  Again, the list of brands and styles gets quite small from that list.
So we ended up looking at kids "sandal" shoes in Keen, Northface, Teva, Geox & Pediped.  Ultimately, the Teva and Northface were too much sandal and not enough shoe to replace sneakers for biking etc.  They just didn't have the toe coverage that I wanted to see from a safety standpoint (toe stubbing & banging, catching against the bike/scooter etc).  The Geox (seen here in girls at Zappos) fit the criteria, but they were over $45.00 – my own personal "this is crazy" line in the sand.  So on to the Keens (which the kids liked but didn't love).  They worked well, but seemed to be a bit less comfortable to the kids.  I was really disappointed and totally played the "they are like Mommy's" card, which was less than effective.
Finally, we tried on the Pedipeds (at Olly's Shoes).  The price was higher than I wanted it to be, but given that the kids will likely wear the shoes for the whole summer, I figure it's worth it.  Additionally, they are washable (and according to the sales person, can be worn in mud puddles for puddle jumping fun).
All in all, it was a good exercise in identifying criteria BEFORE going shopping and sticking to that list. What are your favorite summer "must have" shoes?  And while we're on the subject, what are your favorite kid summer clothing items?  Not sure what you'll need for your summer adventures?  Here are some tips for selecting kids hiking clothing courtesy of Adventure Tykes.