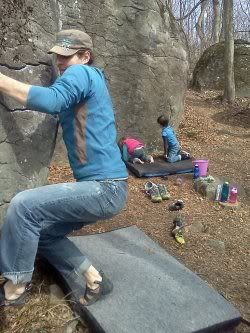 Ryan trying a climb while C & R make mud soup in the background.
As I sit here at my desk on Monday morning, I look out the window at the dreary weather and can't believe that yesterday was such a perfect spring climbing day.  The temperature was great (in the 50's – slightly chilly, perfect temps for climbing), and sunny.   We packed up the truck and took the kids to Governor Stable, a 40 minute drive from our home.  
Packing is the most important thing we do all day. . . if we don't pack the right combination of kid friendly items, we may as well turn around and come straight home.  If the kids aren't enjoying themselves, there is NO WAY that we are getting in ANY climbing.  Since I think our packing was perfect (every item used, nothing extraneous, nothing forgotten), I thought I'd write it down for next time, and share it with you all. So here goes:
The folding potty by Potette Plus.  Get one here.  This thing was the best purchase we've made.  With a 2 year old girl the potty is a necessity – she can't squat yet without getting everything wet.  We've taken the potty to KY (Red River Gorge) with us and on our skiing road trips.  It's great because you "carry out" the waste.
I also brought wipes and Purell hand sanitizer.  These may seem excessive for a short day trip, but if we are eating while we're out, I would rather be on the "no poop on hands" side of things.
Food.  I brought breaded chicken legs (perfect fun fingerfood for the crag), Gogurt (frozen), applesauce, goldfish, and apples.
Water.  Water bottles one each for the kids, and one for Ryan and I to share.  We sometimes use a Camelback, but I find that the kids drink more out of their own water-bottles.
Climbing shoes and chalk. Each kid gets their own chalk bag (in the name of saving our chalk) and their own climbing shoes so that they can get their turn to "climb".  Ry and I share a chalk bag (lightens the load, and we aren't both climbing at the same time so that isn't a problem).
Two crash pads (one small one, one regular sized. . . we left the GIANT burrito pad home and tend not to use it when we go out without friends.)
Most importantly. . . Buckets and shovels for the kids. This is a vital distraction and usually works for us.  I'd love to hear of other ways to distract.   We sometimes bring a hammock but didn't this time.  I've heard slacklines are great if the kids are a bit older, but ours are too young.  Other ideas?  I'm going to try horseshoes next time, I think.  And/or a bug catcher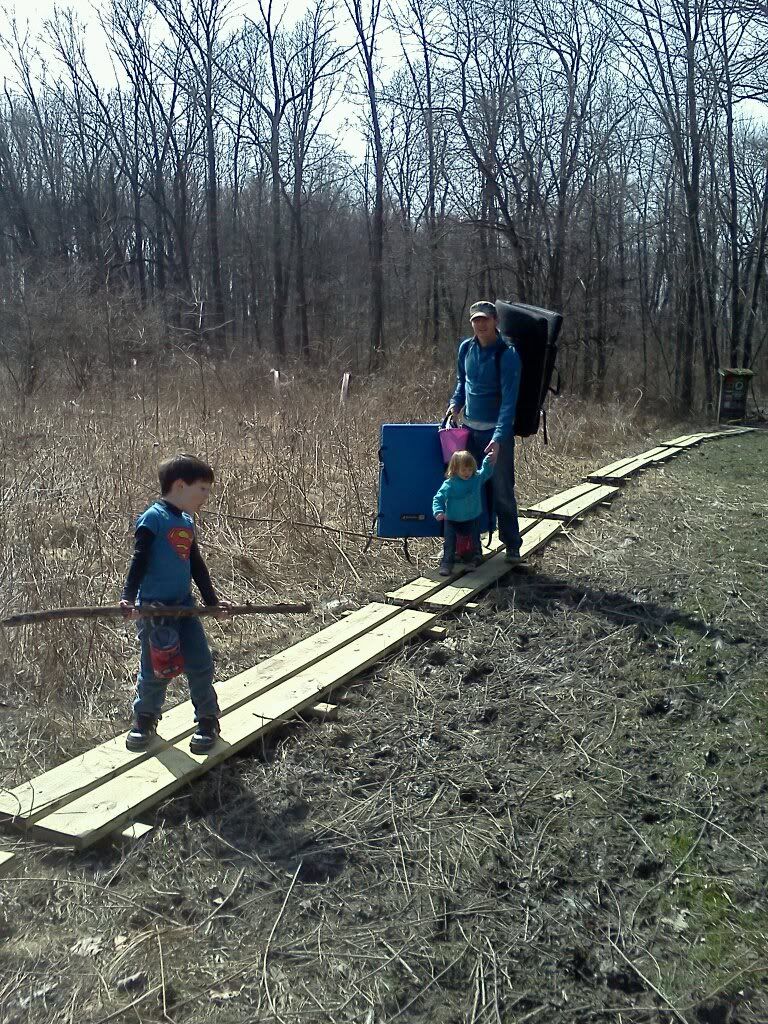 That's it.  We all wore our layers and stripped down if/when needed (didn't pack extras).  I never said this was rocket science.
The day was great, and we managed to get in three or four hours of climbing etc., (plus eating and playing with the kids) at the boulders with minimum fuss.  Clearly our standards have dropped a bit, as any climbing day that ends with us having climbed a few routes and ending with two happy kids is a good day.  Here's a pic of the "hike" out.   Some of the GS folks did trail maintenance – they did an awesome job and made the short hike less muddy and more enjoyable for all of us (and less damaging to the environment).  Thanks to those that put in the work on Saturday!