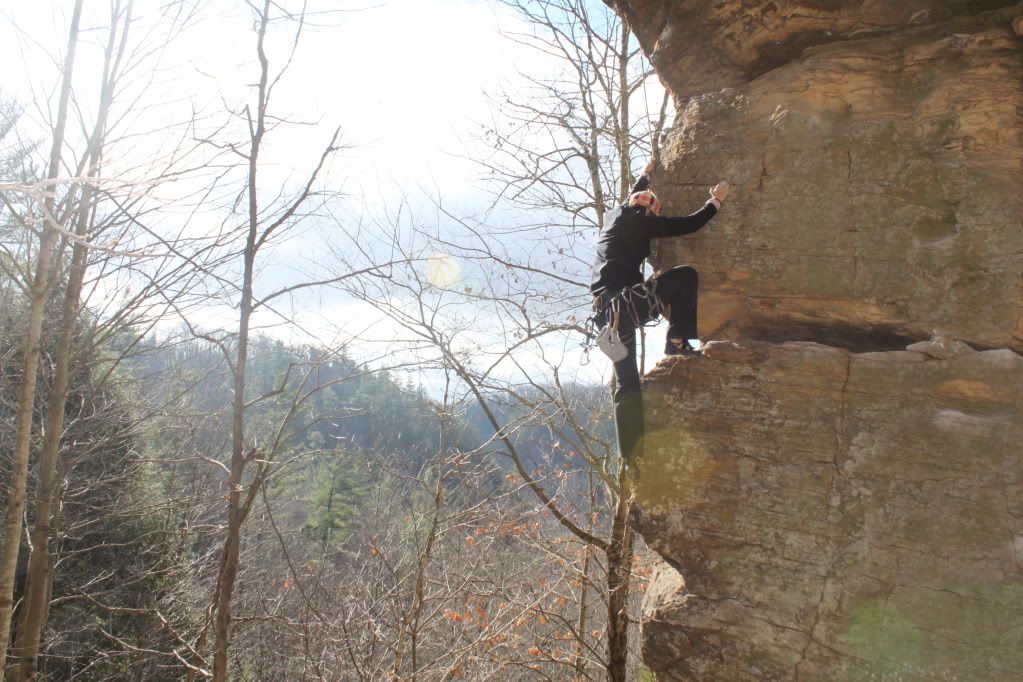 Reading the many comments on this week's closure of the Roadside Crag at the Red River Gorge (see post by Planet Granite and article by Climbing Narc) I'm compelled to write about our fall climbing trip to the Red River Gorge and my own view on these access issues.
We visited the Red over Thanksgiving with our two kids.  Our first day we climbed Military Wall. When we first arrived, no one was around, however, the traffic on the easier routes quickly picked up.  A group of people set up three ropes and camped out there for a few hours as everyone in their group (8 people or more), ran up and down the routes.  It made for a bit of a frustrating day, as we would have liked to climb on that wall a bit more but we moved to a less populated area with some harder climbing so as to keep the kids from bothering others.
The second day, we climbed a bit at the Roadside crag. We found the drop off a bit scary for our young kids so we only stayed for a few climbs.  While at Roadside, we hung the hammock between two boulders in the shade so that C could take a nap.  Traffic to the area was relatively low because the weather was quite cold.  As far as I know, we (there were four of us plus two kids) weren't bothering anyone while at Roadside.  No trash was left.  The hammock was out of the way. We carried out biological waste etc.  Still, we only ran into a few other people. . . more climbing traffic would certainly have made things different (and difficult).
Again, we would have left so that we weren't disrupting others with our hammock or the kids.  I think that this desire to avoid the bottleneck areas, the areas that are high in traffic and socializing is a viable solution to the overcrowding encountered at some crags.  When too many people are in an area at once, the area becomes the equivalent of a climbing gym.
Contrary to the loud music and the large crowds seen at some areas (in this case, at Roadside) the crags are not our local gym.  They are wilderness and nature.  Climbing is not a right in those areas, it is a privilege.
Here's a link to the Roadside Crag owners' original post with a list of the reasons for issuing this closing.  I'll summarize below:
The landowners are climbers.  They are trying to protect the crag and the land.  They are not predisposed (like many non-climbing landowners) to disliking climbers.  The basic reasons for the closer are (according to their post) as follows: 1. Someone has hung homemade permadraws.  And not even good ones.  The fix – as requested by the owners – take them down.  2.  Someone else has bolted a new line.  And apparently a chossy one at that. The fix – take it down.  Those are the easy items.  No more permadraws, no more new lines.
The third point that was raised upon the closure of Roadside had to do with climbing traffic and a lack of respect for the land.  Here is a quick summary of that issue (as I see it).   Three things combine to make areas attractive to the masses.  1. Large climbing areas with lots of bolted routes.  2. Easy accessibility (no approach) 3. High volume of classic but easy routes.
Instead of waiting until landowners restrict and/or cap the number of climbers in an area, can't we expect climbers to self-regulate and move on when they arrive at a crowded crag?  That's what we do.  We have our own reaons: We don't want to disturb people with the kids and we don't want our kids to hear the cursing and random conversations that may not be kid friendly.  We don't ask others to edit, we just move on.
I completely understand that dogs, hammocks, erosion etc., can be problematic at crags.  But they are particularly a problem at crowded crags.  So my solution is to avoid the crowds.  Still shoot for "leave no trace" but hike a bit further or climb a route that isn't quite as popular.  Save the popular areas for a random weekday or a different (less popular) season.
That's my solution for the third problem at Roadside (and other popular crags).  I think that's what the owners are trying to get us to do.  Too bad they had to restrict access to accomplish that.
Now I'm off to research best practices for "Leave no Trace" hiking/climbing as I'm pretty sure that I need a brush up.  I really want to hang my hammock. . .