In a great post (a.k.a. self proclaimed "rant")  by Splitterchoss.com, author BJ Sbarra identifies the frustrating practice of identifying routes by their grade rather than their name. . . I love the points and completely agree!
I wanted to combine the Splitterchoss.com argument with another that I had heard recently (I apologize to the author as I can't recall where the post was) with regard to caring more about the number of "stars" than the grade.  To build upon both of these points, I wanted to pull out some of my archives from a long ago trip to Joe's Valley, UT.
I still remember the name of my favorite bouldering route at Joe's Valley. . .Self Service,  a V4 climb that I greatly enjoyed.  It was a fun route with some neat moves.  I recall the climb vividly, even two kids and eightyears later.  You just can't forget something like that.  So yes, I'm a firm believer that the best climbs are great because they have cool moves and a nice line and that rating doesn't matter so much.  Still, it didn't hurt that I was climbing at my technical/strength limit on that route and that I enjoyed the challenge.
The grade of the route and the quality of the route are only a few of the measurements that we can use to judge a climb.  These don't account for routes that summit with a fantastic view at the top, or the beautiful scenery/image you can capture in a photo of someone climbing the route.  A classic example, this climb in Joe's Valley.  If I recall correctly, the route was not much to write home about, but it sure made a great photo op!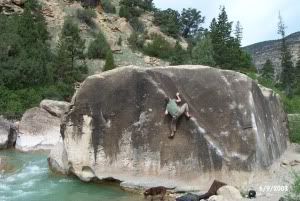 What other qualities do people use to judge or measure a climb? And by "measure" let's not be constrained by quantifiable measurements. . .Safety? Good Fall? Great protection? Does aesthetic count? What about quality of the rock?
Back to ratings. . . My personal experience has shown that I care less about the rating of a climb when I'm climbing with less time and/or added distractions (kids).  I quickly find myself focusing primarily on the routes with 3 or more stars.  I'd equate it to the inside trick college students learn – that it is not about the topic of the course so much as the quality of the professor.  In my experience, just as you should pick classes based on the professor teaching them, it's usually a win to pick climbs based on the number of stars. Obvious to some, but a difficult thing to completely "get" as there seems to be a smaller ratio of "classic" climbs at the lower grades.  There aren't many four star 5.7 or 5.8 climbs as compared to the total number of climbs at that grade.  It may just be something that takes experience (and a stronger climber) to truly appreciate.  After all, it took me a few semesters of college before I picked up on the professor trick.