Now don't get me wrong, I'm not saying you should choose the number of children you have based on how it impacts your outdoor adventure experience. But let's just say you were going to allow the ease of outdoor adventure and travel to influence your procreation decisions, here are some pluses and concerns to consider.
I'm by no means an expert, as I happen to have two children at the moment (and while we may stay at two, three is only a "oopsie" away).  This past weekend, I was inspired to write down the difference between climbing with one vs. two children when Ryan and I went climbing at Governor Stable on Sunday with only our youngest child (C, age 2).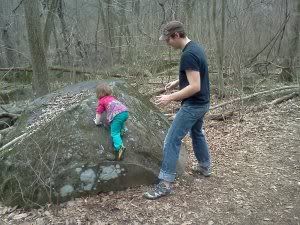 The upside of one kid.  First of all, C is a lightweight.  She probably weighs less than 30 lbs which is about 10 pounds less than R.  She's shorter.  She drinks and eats less.  She rides comfortably in the back pack.  R does not.   Now don't get me wrong, he will usually walk which is a plus over C. But every now and then he just refuses to take another step.  So either way, one child to carry is probably enough.  Particularly when you add in food, crash pads and/or sport racks, rope, shoes etc.  Carrying two kids and all of that gear means that someone is exhausted by the time they get to the crag.
One kid also means you only have one child to worry about with regard to mood, comfort, potty, sleep and entertainment.  Chances are pretty good with two that you are going to spend a lot of time seeing to their needs.  This one is hungry, that one needs to pee.  That one is silly, this one is cranky.  This one wants to be held, that one has a boo boo.  And on and on.
All in all, one kid makes climbing a focus while two kids make climbing an afterthought – even when you've driven hours and hiked a few miles to get there.  Still, the benefit of having two kids along is clear. . . They play together, entertain one another, and spend all of their time figuring out fun things to do to make the excursion an adventure.
And, after all isn't adventure much more fun with a partner?