It's not often that I can say this, but the drive to Pawtuckaway went off without a hitch!  We left our house at 5:15 am and arrived at the park well before 2 pm.  Both kids were loaded into the truck without fuss and they both fell back to sleep for quite a while before waking up for the day. They were still in their pajamas, and clothes were handy for the first "awake" rest stop.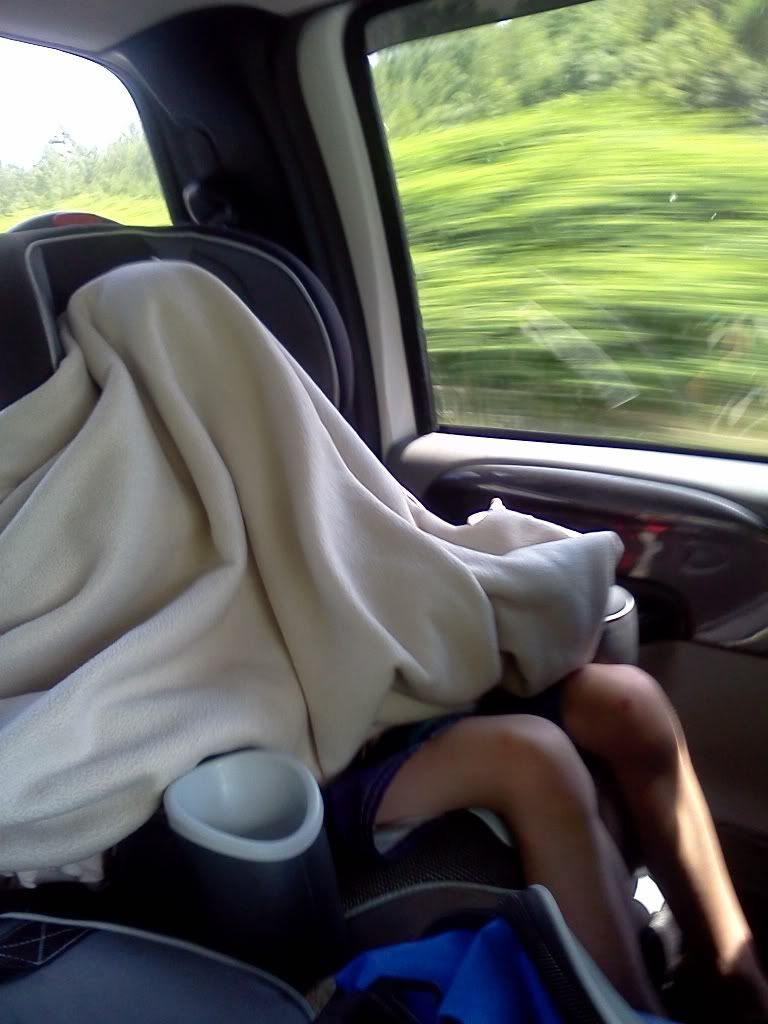 We managed to get to the last food/fuel stop in NJ before they woke up – quite a feat!  We had a cooler of drinks and snacks which cut down on the need to purchase food so we only stopped for food once (at lunch time) at the Sturbridge stop on the Mass Pike, where Ryan and I shared a huge Chicken Caesar Wrap from Fresh City (both money saving and healthy!). The kids went with their old standbye – McDonald's. . . not our favorite place, but okay in (extreme) moderation.
We arrived at Pawtuckaway and because of our early arrival, we were able to leisurely pitch the tent and orient ourselves to the campsite (playing with the sticks, water, & dirt).
We loved the site (a waterfront spot at Horse Island) near both water and restrooms/showers but found that there wasn't much flat area for the tent (a downfall of selecting your site online).
While Ryan recovered from his half of the drive (I drove until we hit CT, he drove the rest), I took the kids to hang out at the park at Pawtuckaway Lake before dinner.  Dinner was Backpacker's Pantry Pad Thai – good tasting, but requiring more time to "cook" than I allowed.  It was clear that I had forgotten how to make camp food!  The kids didn't like the Pad Thai, so we supplimented with Mac & Cheese.  I think it was more a result of my cooking than the taste of the food – atleast that's what Ryan said.
As we prepared for bed, we arranged the tent so that the kids slept on the crashpads (with sleeping bags and blankets) while Ryan and I slept on our camping pads in between the kids.  R kept sliding down the crash pad because of the slope of the ground.  Ultimately everyone slept but it wasn't very pretty.
Note to self: Next time, check with the rangers/park staff upon check in to see if the site is appropriate and/or if there is anything better available.  The second night, we decided to move our tent.  We weren't waterfront with the new site, but flat was certainly preferable to slopped! Even the slightest slope can mean the difference between good sleep and no sleep.  
1.  Leaving early is best for us. Figure out what time works best for you and your family.  2.  Keep everything accessible for the ride (food, toys, clothes). It cuts down on stops.  3. Guaranteed, you'll forget something.  Do your best to make sure it isn't anything important.  We forgot the kids camp chairs and our 5 gallon water tank.  Nothing to cry about, but annoying nonetheless.
All in all a good start to our vacation!